I find it quite remarkable that there is a popular google search phrase of the words is matched betting a con?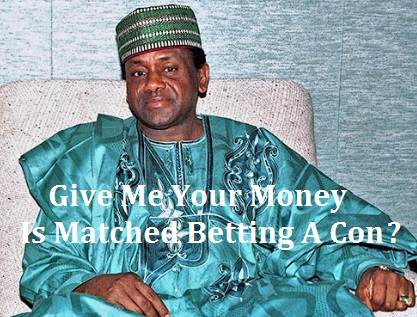 Is Matched Betting a Con or a Scam?
The theory that matched betting is a con simply couldn't be further from the truth. I can only imagine that people find it hard to believe, as getting free money sounds too good to be true – which is a totally understandable theory.
Matched betting isn't get rich quick, but is probably the most trusted – and only 100% profitable – way of making money from the bookies.
Reasons Why Matched Betting Is Legal
If you want to know if Matched Betting is a con – or a scam, or legit, call it what you want, here is I'm going to explain why it's none of the above desciptions.
In fact, Matched Betting is 100% legal. It's easy for me to write that, so let me explain in more detail.
Think of it like this. If you are 18 or over, you are old enough to legally open a new account with a bookmaker and place a bet. Yes! Are we agreed?
Good, let's move on. So you open your new account with a bookmakers and place a bet. Nothing illegal there.
Now, at the same time, you open a betting exchange account and place a Lay Bet. Again, if you're 18 or over, this is perfectly LEGAL.
This Lay Bet on the betting exchange just happens to be the opposite to the bet that you placed with the bookmakers, ensuring that you don't lose any money (ok, maybe pennies).
Is there anything illegal about placing two bets? No!
The bookmaker gives you a free bet to use at your own free will. Again, nothing illegal about that.
You then place your free bet with the bookmaker. And you also place another Lay Bet on the betting exchange – which guarantees you a profit.
And that's it. That's Matched Betting. There's absolutely nothing illegal about Matched Betting.
The idea that Matched Betting is a con, or a scam, or dodgy, is simply not true.
Matched Betting is a simple process of placing back bets and lay bets, but in a particluar order, and in a way that guarantees you a profit at the end of the process.
That's it, there's noting illegal about that.
Is Matched Betting A Con; Key Points
Matched Betting is not a Con.
Neither is Matched Betting a Scam.
Matched Betting is 100% Legal
Matched Betting is a process of placing bets in a particular order.
ODDSMONKEY FREE TRIAL
– free trial available here
– £17.99 a month or £150.00 for 12 months
– Can cancel at any point
PROFIT ACCUMULATOR FREE TRIAL
– free trial available here
– £17.99 a month or £150.00 for the year
– Can cancel at any point
PROFIT MAXIMISER £1 TRIAL
– £1.00 (+ VAT) trial for 14 days here
– Cheapest annual price at £116.40 (VAT Included)
– 30 day money back guarantee
BETTING MASTERMIND
– £216 or 4 x £58.80
– The ultimate Matched Betting package, with 13 betting systems
– 30 day money back guarantee
Matched Betting
There is a no risk way of making money from betting, and it's called Matched Betting.
Matched betting enables us to make risk free money from bookmaker's free bets and bonuses. With little or no experience, anybody can do matched betting, you just need £50 and internet access.
Any money back special you see from a bookmaker, enhanced odds offers, or any free bets, are all matched betting opportunities. Just watch the tv adverts during a football match and you will see some of these .
Matched betting is huge, and it shows no sign of ending anytime soon. With hundreds of bookie fighting for our custom, matched betting is here to stay.
It is possible to make £500 a month from matched betting, although that does involve a lot of commitment. If you have the time and patience, then you will succeed. So what are you waiting for, give matched betting a go.
Profit Maximiser
You may have heard of Profit Maximiser already. Profit Maximiser is the brainchild of Mike Cruickshank, the man behind plenty of online betting services and systems.
Methods of purchasing Profit Maximiser
There are currently two methods for purchasing Profit Maximiser –
1) You can purchase Profit Maximiser for £1 + Vat, and get full access to the site for 14 days. After 14 days, the remainder of the £96 + Vat will be automatically billed.
This completes your purchase for a whole year.
If you decide you don't want Profit Maximser, then e-mail customer services before the end of the 14 days. They will then cancel your order. Meaning it only cost you a total of £1.20 to try out Profit Maximiser.
2) You purchase Profit Maximiser outright for 12 months at the full price of £97 +Vat.
Buying the system outright gets you full access to the site, and the 100% guaranteed refund for 30 days. The two methods mean you can either try Profit Maximiser out for free, or for just £1.20.
You will make risk free cash while trying out Profit Maximiser. So for that reason alone, it's worth giving Profit Maximiser a try. More details can be found in our Profit Maximiser Review.
Match Betting Scam FAQs