Matched Betting (arbing) is a way of making money for free from claiming bookmakers free bets, it's not gambling, and is pretty much risk free.
Although we are not actually gambling, Matched Betting does involve placing bets. The difference is that we are placing the bets in a way that guarantees us a profit, no matter what the outcome.
Best Matched Betting Systems

Bonus Bagging – £1 Trial
Profit Maximiser – £1 Trial
Profit Accumulator – Free Trial
OddsMonkey – Free Trial
Accumulator Generator £1 Trial
MatchedBets – £1 Trial
The way matched betting works is by leveraging out risk free profits from the bookmakers free bets (the sort you get when you open a new account), and from reload bets (existing customer offers).
Before we start opening bookmakers accounts and using free bets, we need to get ourselves a betting exchange account, as this is imperative to making money from Matched Betting.
Opening A Betting Exchange Account
It's very important to get things in order when you are using the Matched Betting technique. So you will first need to open an account with one of the betting exchanges. We need a betting exchange account in order to lay our qualifying bets. This ensures that we don't lose money (this will become clearer as we go along).
The main betting exchanges are…………
Now you've opened your betting exchange account, I'm going to show you an example of how matched betting works.
Placing Your Qualifying Bet
Qualifying bets are usually a 100% match up of what will be your free bet, this means they are the same amount as your free bet. In this example, I am going to base it on a £10.00 Free Bet.
A lot of bookmakers stipulate that your qualifying (first) bet is placed on an event at odds of a minimum of Even money (2.00) or greater, so for this reason I'm going to base the qualifying bet on this criteria (this is to stop punters placing qualifying bets on New Zealand to beat Tonga at Rugby Union at odds of 1.02, etc).
So after you've opened your bookmakers account, you will need toselect an event with an outcome at odds of Even money (2.00). I'm going to use a football match for this example.
This is my qualifying bet….
Back Team A @ Even money (2.00) with Bookmaker for £10.00
Lay Team A @ 2.00 (Even money) or nearest price possible on Betting Exchange for roughly £10.00 to get as close as possible of your £50.00 back.
You will find that Team A is probably going to be at odds of 2.02 or 2.04 to lay, so you won't get exactly £10.00 back. This is why I wrote "roughly £10.00″ above, the chances of you getting an exact match are very slim, so what you do is find odds as close together as possible, this minimises the amount of money you may lose placing your qualifying bet.
If you are claiming a £10.00 free bet, you may lose 50p covering your £10.00. This isn't unusual, and it certainly isn't a problem. Think of it as buying yourself a £10.00 Free Bet, I would spend 50p to a pound on a £10.00 Free Bet, why wouldn't you?
After the match has finished and your bets are all settled and the money is safely back in your respective account, you will receive your free bet to use on another event (in this case another football match).
Using Your Free Bet
This is how I would use the free bet…
Back Team A @ 7.0 (6/1) with Bookmaker for your £10.00 free bet, to win £60.00 (you don't get your tenner back as it's a free bet).
Lay Team A @ 7.0 (6/1) on the Betting Exchange for approximately £8.00 to £8.50 (depending on exact odds).
Again, you probably won't be able to lay at 7.0, it will probably be about 7.2 or 7.4.
The free bet will break down like this.
If Team A wins your bookmaker will give you £60.00 winnings back, but you will lose around £51.50 on the betting exchange from your lay of Team A – a profit of around £8.00 to £8.50.
If Team A loses you get nothing back from your bookmaker (you can't lose with the bookie as it is a free bet you are using), and you win around £8.00 to £8.50 on the betting exchange.
So either way, you should get a profit of around £8.00 to £8.50, from your free bet, whatever the outcome of the match.
How Much Can I Make From Matched Betting?
The above formula is a rough guide, and you will be looking for a hell of a long time to find an exact odds match like that. The closer the odds are together (between bookie and betting exchange), the more profits you make.
You will easily find odds in that region though, and even allowing for slightly less profit you should be looking to make around £7.00 to £8.00 profit from every £10.00 free bet you get, call it £7.50 in profit on average.
You will find well over a thousand pounds in new customer offers, so that would see you banking over £750.00 on new customer offers alone, but what do you do after you have cashed in all of those offers?
Reload Offers
Well that is where you need to work a bit harder, and how much you make will be down to the individual. You will need to start using reload offers (existing customer offers), the Profit Maximiser calendar has stacks of these every day.
There are loads of these sorts of offers out there, they come in the form of acca insurance offers, money back on second place horses, money back on winners over 4/1, etc, etc.
Subscription services like the above mentioned Profit Maximiser, Profit Accumulator, MatchedBets, etc, etc, will find you stacks of these offers, or you can do it yourself.
If you work to the formula of £7.50 for every £10.00 free bet, you won't go wrong. That is fairly achievable, and it can easily get you earning a great second income. Or in some cases, if you are really good at it, a first income.
ODDSMONKEY FREE Matched betting TRIAL
– free trial available here
– £17.99 a month or £150.00 for 12 months
– Can cancel at any point
MATCHEDBETS £1 TRIAL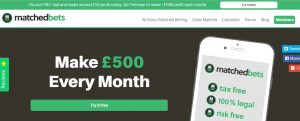 – £1 trial for 14 days full access
– £15.00 a month or £149.00 for 12 months
– Cancel at any time if not satisfied
PROFIT ACCUMULATOR FREE matched betting TRIAL

– free trial available here
– £17.99 a month or £150.00 for the year
– Can cancel at any point
PROFIT MAXIMISER £1 TRIAL

– £1.00 (+ VAT) trial for 14 days here
– Cheapest annual price at £116.40 (VAT Included)
– 30 day money back guarantee
BONUS BAGGING £1 TRIAL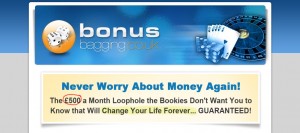 – £1.00 (+ VAT) trial for 7 days here
– £32.40 total cost for life membership
– 60 day money back guarantee
Matched Betting
There is a no risk way of making money from betting, and it's called Matched Betting.
Matched betting enables us to make risk free money from bookmaker's free bets and bonuses. With little or no experience, anybody can do matched betting. Access to the internet and fifty quid is all you need too get up and running. That's it!
Any money back special you see from a bookmaker, enhanced odds offers, or any free bets, are all matched betting opportunities. Just watch the tv adverts during a football match and you will see some of these  .
Matched betting is huge, and it shows no sign of ending anytime soon. The amount of bookmakers and competition in the market place, ensures matched betting is here to stay.
It is possible to make £500 a month from matched betting, although that does involve a lot of commitment. If you have the time and patience, then you will succeed. So what are you waiting for, give matched betting a go.
Profit Maximiser
You may have heard of Profit Maximiser already. If not, Profit Maximiser is one of the best matched betting subscriptions services available on the internet. Profit Maximiser is the brainchild of Mike Cruickshank, the man behind plenty of online betting services and systems.
Methods of purchasing Profit Maximiser
There are currently two methods for purchasing Profit Maximiser –
1) You can purchase Profit Maximiser for £1 + Vat, and get full access to the site for 14 day's. After 14 days, the remainder of the £96 + Vat will be automatically billed.
This completes your purchase for a whole year.
If you decide you don't want Profit Maximser, then e-mail customer services before the end of the 14 days. They will then cancel your order. Meaning it only cost you a total of £1.20 to try out Profit Maximiser.
2) You purchase Profit Maximiser outright for 12 months at the full price of £97 +Vat.
Buying the system outright gets you full access to the site, and the 100% guaranteed refund for 30 days. The two methods mean you can either try Profit Maximiser out for free, or for just £1.20.
More details can be found on our Profit Maximiser Review, where you will see in more details how Profit Maximiser works.
You will make risk free cash while trying out Profit Maximiser. So for that reason alone, it's worth giving Profit Maximiser a try.