So is it possible to do Matched Betting for a living? The holy grail for the – so called – easy live is to work from home, and matched betting does give us an option to do this. But some people do ask can it earn us enough money to make a living from?
I believe that you can, but it depends on how much work you put in, the size of your family, how much money you need to live off every month.
The general rule of thumb when it comes to matched betting is that you can make around £500.00 a month. This is tax free income as well, so bear that in mind if you are planning on giving this a try.
£500.00 a month isn't going to earn too many people a living in this day and age, but it makes a hell of a second income.
Now it is possible to make far more than £500.00 a month from matched betting, but it would involve a decent amount of work. Probably far more than you can do in your spare time.
I believe the true answer to this question to be, it depends. As I stated earlier, it's down to your outgoings, family size, expenditure, etc, etc.
So for example, if you are single with no dependants, and think you could live off a thousand pounds a month, then I would say it is very possible you could make a living from matched betting.
Work Hard And The Profits Will Arrive
With a few extra hours a week, you could easily turn £500.00 a month into a grand a month, and if that's all you need, then bingo.
I wouldn't quit my job just yet though. I would really go hard at it for a good 6 months to see if you can regularly make £1000.00 a month before I even considered doing it for a living.
If on the other hand you have a wife and two children (like me), and would need something like £20,000 to £25,000 a year to live off, then you would find it hard to make a living from matched betting.
There probably would't be enough hours in the week to find the time to make that sort of money. Again, I wouldn't say it's impossible, but you would have to be very dedicated and be prepared to put in a hell of a lot of hours to achieve this.
Not to mention the aggro you might have trying to persuade your wife/husband/partner that it would be a good idea – I'm not speaking from experience there, honestly!!
Life's circumstances could dictate whether you could do matched betting for a living. For example. you might have the proverbial wife and two kids. You may also have a few quid in the bank (I know, not likely if you've a missus and two kids), and have just been made redundant, and hence have a few more quid coming your way, and a lot of spare time on your hands.
There's Nothing To Lose Giving Matched Betting A Try
In that eventuality why not give it a go? You already have rainy day money tucked away in the bank, and you also have your redundancy money to back you up for a few months, and you could be on the look out for a new job while trying it out. If you find you're making a living from it, then happy days, scrap the job hunting!
It purely depends on your lifestyle and expenditure. Above I've tried to post a few diffing examples of how I believe matched betting for a living could work, or might not work. There is no definitive yes or no to this question, it is purely down to the individual and his/her circumstances.
ODDSMONKEY FREE TRIAL
– free trial available here
– £17.99 a month or £150.00 for 12 months
– Can cancel at any point
MATCHEDBETS £1 TRIAL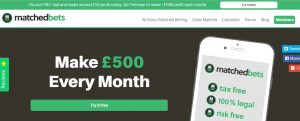 – £1 trial for 14 days full access
– £15.00 a month or £149.00 for 12 months
– Cancel at any time if not satisfied
PROFIT ACCUMULATOR FREE TRIAL

– free trial available here
– £17.99 a month or £150.00 for the year
– Can cancel at any point
PROFIT MAXIMISER £1 TRIAL

– £1.00 (+ VAT) trial for 14 days here
– Cheapest annual price at £116.40 (VAT Included)
– 30 day money back guarantee
BONUS BAGGING £1 TRAIL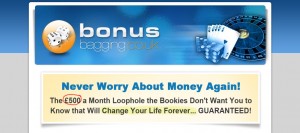 – £1.00 (+ VAT) trial for 7 days here
– £32.40 total cost for life membership
– 60 day money back guarantee
Matched Betting
There is a no risk way of making money from betting, and it's called Matched Betting.
Matched betting enables us to make risk free money from bookmaker's free bets and bonuses. With little or no experience, anybody can do matched betting. Access to the internet and fifty quid is all you need too get up and running. That's it!
Any money back special you see from a bookmaker, enhanced odds offers, or any free bets, are all matched betting opportunities. Just watch the tv adverts during a football match and you will see some of these.
Matched betting is huge, and it shows no sign of ending anytime soon. The amount of bookmakers and competition in the market place, ensures matched betting is here to stay.
It is possible to make £500 a month from matched betting, although that does involve a lot of commitment. If you have the time and patience, then you will succeed. So what are you waiting for, give matched betting a go.
Profit Maximiser
You may have heard of Profit Maximiser already. If not, Profit Maximiser is one of the best matched betting subscriptions services available on the internet. Profit Maximiser is the brainchild of Mike Cruickshank, the man behind plenty of online betting services and systems.
Methods of purchasing Profit Maximiser
There are currently two methods for purchasing Profit Maximiser –
1) You can purchase Profit Maximiser for £1 + Vat, and get full access to the site for 14 day's. After 14 days, the remainder of the £96 + Vat will be automatically billed.
This completes your purchase for a whole year.
If you decide you don't want Profit Maximser, then e-mail customer services before the end of the 14 days. They will then cancel your order. Meaning it only cost you a total of £1.20 to try out Profit Maximiser.
2) You purchase Profit Maximiser outright for 12 months at the full price of £97 +Vat.
Buying the system outright gets you full access to the site, and the 100% guaranteed refund for 30 days. The two methods mean you can either try Profit Maximiser out for free, or for just £1.20.
More details can be found on our Profit Maximiser Review, where you will see in more details how Profit Maximiser works.
You will make risk free cash while trying out Profit Maximiser. So for that reason alone, it's worth giving Profit Maximiser a try.