If you've ever wondered who is Mike Cruickshank, then here is some more information about the man behind successful betting systems such as Profit Maximiser and Bonus Bagging.
Mike Cruickshank Is A Guy Who Has Mastered Matched Betting
Mike is a well organised, meticulous sort of guy. He openly admits to how he boringly sits in his office, finding free bets, free casino spins, bingo offers, etc. He has been doing this sort of thing (bagging free bonuses) for years now, and he now seems to have mastered these techniques.
Matched Betting Systems

Bonus Bagging – £1 Trial
Profit Maximiser – £1 Trial
Profit Accumulator – Free Trial
OddsMonkey – Free Trial
MatchedBets – Free Trial
How can it be said he has mastered them? Well, he earns a bloody living from them.
To some of us (me included), making a couple of quid from the occasional free bet, free spread bets, free spins from a casino, or free bingo cash, etc, was a bit of fun….. I might win, I might not…. so what, it hasn't cost me anything.
Mike Has Shown Us How To Make Decent Money From Free Bets
Mike has turned this so called 'bit of fun' into an art, a way of earning a living. Although earning a living in this way may be a touch boring, would you rather be doing a 9-5 for an idiot of a boss instead?
In making yourself financially secure like Mike has, you can pick and choose when to work.
Although what Mike does might be boring, it (generally) isn't time specific.
This means you can spend an hour doing it in the morning, and an hour in the evening, if you wish. Morning, noon or night, it's basically up to you when you work.
The only occasions when it is time specific, is the occasional time when you get a bet that has to be placed in-running. This might mean you need to be around during a particular football match. No major hardship there.
Bonus Bagging was Mike's first project. Since starting that service, Mike soon realised that there is far more free money out there to be claimed, and that he needed a new service to bring it too the masses.
That's when he brought Profit Maximiser to us….you can effectively try Profit Maximiser for free with its 14 day trial for just £1.20.
Over the last few years Mike has built a solid reputation as a genuine guy who produces quality products. Mike has a well respected name, and is an approachable guy who is only an email away.
Mike stands by his products, which is why they come with a money back guarantee. In short, Mike is a trusted source.
Mike Cruickshank Betting Products
The main matched betting systems from Mike Cruickshank that we cover on this site are Bonus Bagging, and my personal favourite, Profit Maximiser.
There are more though, 7 in total. Here is a list of them all….
– Bonus Bagging
– Profit Maximiser
– Betting Mastermind
– Each Way Sniper
– Betfair Sniper
– EV Maximiser
– Betfair 1% Club
The Betting Mastermind product is a bit of an amalgamation of the majority of the other products. It comes at a higher price, but this is because has nearly all of his products included in the price.
At the moment, Bonus Bagging, Profit Maximiser, and Each Way Sniper are still all available to be purchased individually. How long for though, I don't know.
How Much Is Mike Cruickshank Worth?
While it's to nail down (or any of our business really) a reasonably accurate amount of money that could be sitting in Mike's bank, his company accounts suggest he is doing okay.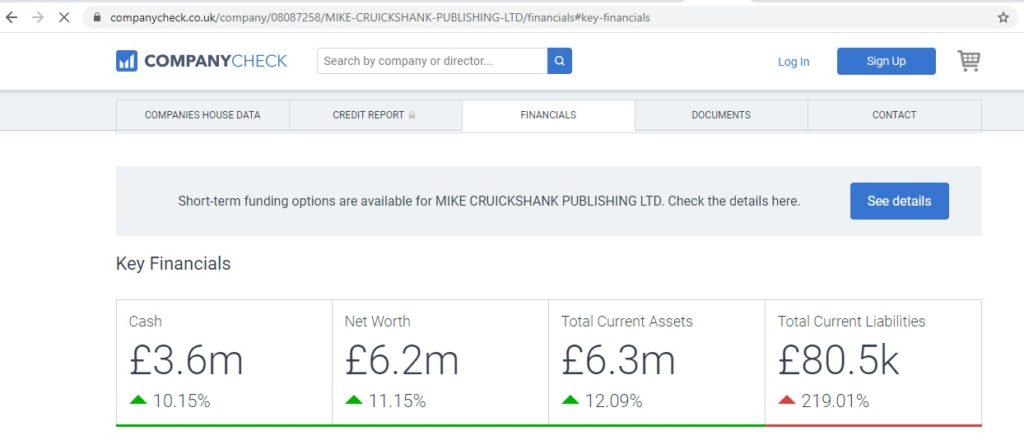 A quick look on companycheck.co.uk shows his company Mike Cruickshank Publishing Ltd – according to Companies House Data – has a net worth of £6.2 Million (April 2019).
The majority of this money must surely come from sales, rather than matched betting. But what it shows is that Mike's products obviously sell.
If his products were rubbish, his company wouldn't be showing a net worth of this amount.
I'm not his salesman – but as a writer, website owner, and a budding entrepreneur myself, I have to say that is impressive.
Finding a product that sells and turning in into a multi million pounds business, is pretty good going.